D-DEGREE TRAININGS & COURSES – SOFTWARE ENGINEERING TRAININGS AND COURSES
Full-Stack Web & Mobile Development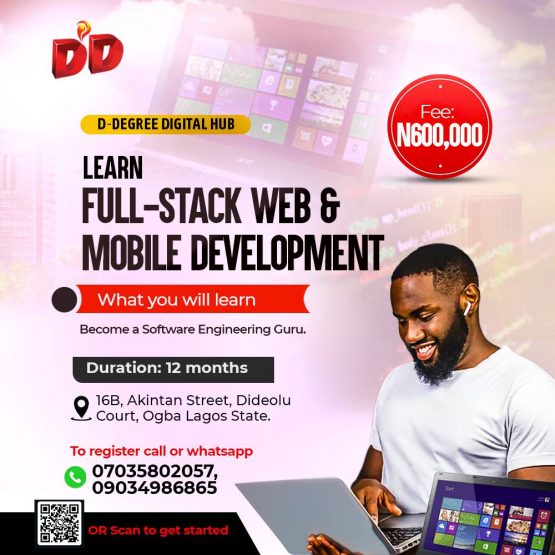 Full-Stack Web & Mobile Development
Become a Software Engineering Guru.
Full-stack web and mobile development involves learning all of the necessary skills and technologies to become a software engineering guru. This includes mastering both front-end and back-end development for web and mobile applications using a variety of tools and frameworks such as React.js, React Native, Node.js, MongoDB, AWS, and more.
As a full-stack developer, you will be able to create complex and scalable applications that run smoothly on both web and mobile platforms. You will be able to design and implement user interfaces, manage databases, build APIs, and ensure that your applications are secure and protected from potential security threats.
To become a software engineering guru, you will need to have a strong foundation in programming concepts and logic, as well as a deep understanding of web and mobile development technologies. You will also need to be able to think critically and creatively to solve complex problems and develop innovative solutions.
By mastering full-stack web and mobile development, you will be equipped with the skills and knowledge to pursue a career as a software engineer, web or mobile application developer, or full-stack developer in a variety of industries.
DURATION – 1 YEAR | COST – N600,000
Copyrights 2023. All rights are reserved by D-Degree Digital Hub