D-DEGREE TRAININGS & COURSES – SOFTWARE ENGINEERING TRAININGS AND COURSES
Advanced Frontend Development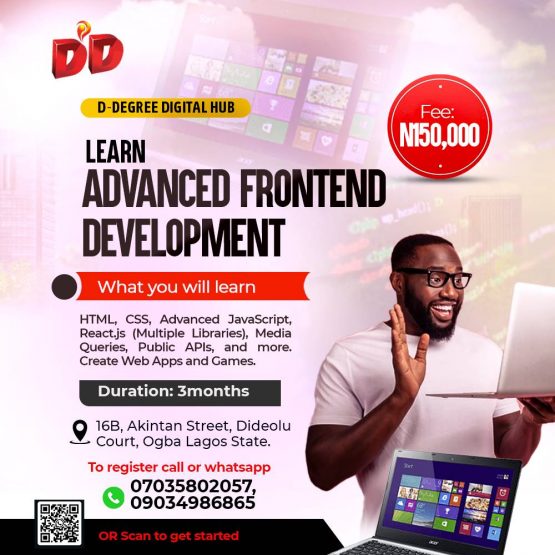 Advanced Frontend Development
Learn HTML, CSS, Advanced JavaScript, React.js (Multiple Libraries), Media Queries, Public APIs, and more. Create Web Apps and Games.
Advanced Frontend Development builds upon basic frontend development skills and involves learning advanced concepts and technologies to create more sophisticated web applications, games, and interactive digital experiences.
In addition to HTML, CSS, and advanced JavaScript, you will also learn popular front-end frameworks and libraries like React.js, allowing you to easily build dynamic and responsive web interfaces. Media queries are also crucial to learn in order to create mobile-friendly websites that work well on various devices.
Public APIs are a powerful tool that you can leverage to create rich and interactive web applications that integrate with external services and data sources. You will also learn how to use multiple libraries to develop web apps and games that can run on various platforms and devices.
By mastering advanced frontend development skills, you can create complex and high-quality web applications, and work as a front-end developer, a game developer, or a UI/UX designer.
DURATION – 3 MONTHS | COST – N150,000
Copyrights 2023. All rights are reserved by D-Degree Digital Hub